The world of digital marketing is constantly changing. Social media marketing, video ads, influencer culture, SMS, and other mobile strategies—keeping up with every new trend and platform can be exhausting.
Compared to most other forms of digital marketing, email seems like a dinosaur.
You might be tempted to write off email marketing as "dead" and a waste of money. And even if you believe email marketing isn't dead yet, you're probably thinking that the end has to be near. After all, email has been around since the 1970s. If it's not dead yet, it will be soon—right?
Wrong.
Email marketing is alive and well, and we'll prove it to you. By the end of this blog post, you'll have irrefutable proof of the power of email marketing—and you just might be convinced to increase your digital marketing budget.
Let's review some numbers from Hubspot about email usage.
There are

4 billion people

who regularly use email worldwide. 

99% of email users check their inboxes every day

, and over 50% check multiple times a day. 58% of email users check their inboxes first thing in the morning.

In 2021,

email was the number one way

for U.S. consumers to discover and use coupons from brands. 

On average,

consumers consider email the most personal channel

to receive information from a brand. (By generation, that breaks down to 74% of Baby Boomers, 72% of Gen X, 64% of Millennials, and 60% of Gen Z.)

50% of consumers purchase through a marketing email at least once a month. 


People all over the world are using email, and it's not just Baby Boomers. Email usage transcends age, gender, and geography. 
Email is critical to your marketing strategy because it is such a versatile channel. You can use email to welcome new leads to your brand, convert leads into customers, and nurture existing customer relationships. Email keeps your audience informed and engaged with your business so you remain relevant in their minds, even when they're not ready to make a purchase. 
From helpful transactional emails about the status of a customer's order to online-only flash sales to teasing the release of a new product, email can do it all. 
Still not convinced? Constant Contact put together a list of 39 real-life examples of how email marketing benefits small businesses.
"Sure," you say, "email is alive now. But it can't last forever. It has to die sooner or later."
Email may not last forever, but it doesn't show any signs of slowing down in the near future. Email is stayin' alive.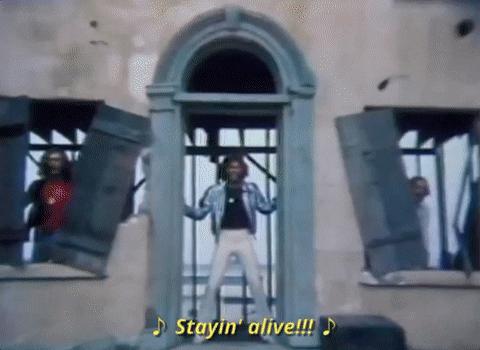 Now that you're humming a funky disco tune, let's look at some numbers about the future of email.
According to Statista, 306 billion emails were sent every day in 2020. They estimate that we will have sent 333 billion emails a day in 2022 and as many as 376 billion in 2025.
And remember those 4 billion email users we mentioned before? That number is expected to grow to 4.6 billion in the next 3 years. That's an additional 600 million email users! 
If email were dying, the numbers wouldn't be growing.
And even if the number of email users weren't growing, there is no clear successor to email's reign in digital marketing. Social media simply does not accomplish the same things that email does, nor do most consumers expect it to.
Campaign Monitor says 72% of consumers prefer email when receiving promotional content from brands. Email marketing is 40x more effective at acquiring new customers than social media, and sales from emails are on average 3x higher in value than sales generated from social media.
Social media has its place in digital marketing (like generating brand awareness and increasing engagement with your audience), as do other channels. But none of them are likely to take over email's place in the near future.  
Email Is Worth Your Investment
Email marketing is alive. So what? 
There's a lot of money in email marketing. Statista estimates that email marketing revenue will reach 11 billion dollars by the end of next year.
Your business can see some of that 11 billion by investing in email marketing. For every $1 you spend on email, you can see $36 in return. That's an astounding 3600% ROI! 
The investment in email goes beyond money. The more time and care you spend on your email marketing strategy, the better your results. Segmentation, personalization, and automation all increase ROI, and Litmus reports that optimizing your emails through A/B testing can see a 28% increase in your ROI. These methods take time to set up, but they have great results.
Your audience wants to hear from you regularly, and email is one of the best ways to do that. A consistent email marketing strategy not only drives sales—it can increase brand awareness, earn your audience's trust, and establish you as an expert in your field. 


Are you convinced of the power of email marketing, but you find yourself unsure where to start? Are you thinking about that 3600% ROI and wondering how you can see those kinds of results? Schedule a call and let us give you a hand. We'll use proven best email practices to help you gain new customers and nurture your relationship with existing clients, so your business can flourish.