Let's play a quick guessing game. Do you immediately recognize the brand that goes in the blank when you read this statement?  
"Get _____. You can save money and be better protected from mayhem — like me." 
That's right: it's Allstate. 
We all know and love Mayhem, the personification of those home or auto accidents that cost a fortune without good insurance. 
Because it's so recognizable and unique, we're certain a lot of hard work behind the scenes went into Allstate's brand voice and Mayhem's character development. 
But why does Mayhem resonate so well with viewers? The brand voice and personality of Mayhem speaks to Allstate's target audience the way they want to be spoken to. The commercials have a clever, humorous way of demonstrating empathy and demonstrating Allstate's expertise in insurance coverage. 
This is why brand voice is important. When executed well, your brand voice speaks to your target audience the way they want to be spoken to and the way you want to be perceived. It sets your brand apart from others in the marketplace.
Want to create an unforgettable brand voice like Allstate? Today we're sharing 5 steps to finding and cultivating your voice.
1. Review what your company values through your mission or vision statements and internal values.
Does your company have a mission or vision statement?
These documents are helpful tools for establishing your brand voice.
Our guess is that you want your target audience to perceive you as the company described in your values.
A way to win this perception is to be true to them — that's a must. But you'll also want your brand's voice to be consistent with statements that outline your mission, vision, or values. 
Print these statements and meet with your marketing team. Then circle, underline, and mark up these statements together, taking note of any words that stand out to you. You'll find some gems to use for crafting your voice.
2. Create a customer avatar.
Merriam Webster defines an avatar as "someone who represents a type of person, an idea, or a quality." 
Your target audience is the "type of person" you're trying to reach. 
We know it's tempting to try and "cast a wide net" so you catch as many potential customers or clients as possible. But trying to reach everyone has the opposite effect. 
It's important to know who you're trying to reach with your product or service. What problems or challenges do they have? What are their dreams and goals? Where do they go for information? What do they read? Who do they consider experts? Where do they spend their time and money? What are some of their demographics like age, gender, location, career, and education level? 
This question is perhaps most important of all when establishing your brand voice: 
How does your ideal customer speak and like to be spoken to? 
Your answers to all of these questions will help you create a customer avatar: someone who represents your target audience. You can even give your customer avatar a name and look so you more easily imagine yourself talking directly to them. 
Check out DigitalMarketer's free customer avatar worksheet to get started. Then incorporate who your ideal customer is and how they speak and like to be spoken to into your brand voice.
3. Know your competition — and how you can distinguish your brand voice from theirs.
Your brand is competing with several other brands for your ideal customer's investment and loyalty. Knowing your competition's brand voice is crucial when crafting your own. 
What does your competition sound like? 
What problems are they emphasizing that your target audience is facing? What problems do you think they should be emphasizing more? 
What do you like about their brand voice? What do you dislike? How do you think your brand voice can stand out among your competition? 
While we're talking about other brands, make sure you also browse the websites, social media feeds, or emails of companies whose brand voice you like. These companies can be in- or outside your industry. Take some notes about why you like their voice and how it makes you feel. 
Congratulations! You've begun crafting your ideal brand voice. You've established 1) how your brand wants to be perceived, 2) how your customers speak and like to be spoken to, and 3) how your brand voice will be distinct from your competition. 
We like this image from copywriter and brand strategist Jack Barclay to help you visualize what we call the "brand voice trifecta."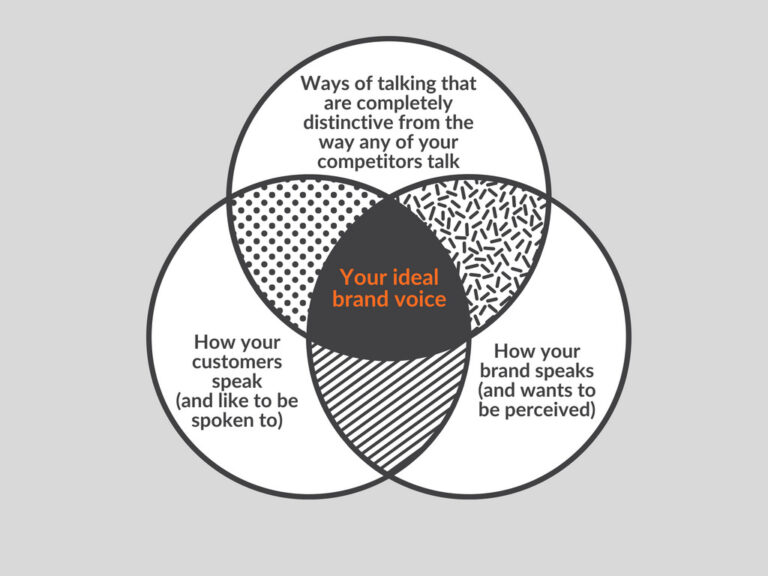 But we're not finished yet — you still have two more steps to help you determine your brand voice.
4. Determine your brand's personality.
Now that you have a solid foundation for your ideal brand voice, it's time to determine your brand's personality.
Jennifer Aaker, a behavioral scientist at Stanford Graduate School of Business, introduced the brand personality model most commonly used today. In her research, she discovered 5 brand personality types: sincerity, excitement, competence, sophistication, and ruggedness.
Dr. Francisco Tigre Moura, a marketing professor at IU University of Applied Sciences in Germany, offers a great breakdown of each personality type with examples here. 
Reexamine your brand voice trifecta: how you want your brand to be perceived, how your customers speak and like to be spoken to, and how you want your brand voice to be distinct from your competition.
One of these brand personalities should stand out to you! Begin brainstorming words and ideas that describe, with detail, your brand's personality. 
And similar to a customer avatar, you can also create a brand personality avatar.
Think of this avatar as a character who represents your brand voice. Flo from Progressive Insurance commercials is a great example of a brand's personality embodied in a character. 
Even if you don't use this character, creating a brand personality avatar — and even naming your avatar — can help you channel your brand voice when writing copy for marketing campaigns.
5. Create a brand voice chart.
Lastly, you'll want to identify 3-5 adjectives or characteristics that describe your brand. These characteristics will get specific about your brand's personality. Read some adjectives for each brand personality below provided by Looka:
Use notes from all of your previous brainstorming sessions and come up with 3-5 adjectives that describe your brand personality. Then create a brand voice chart like this: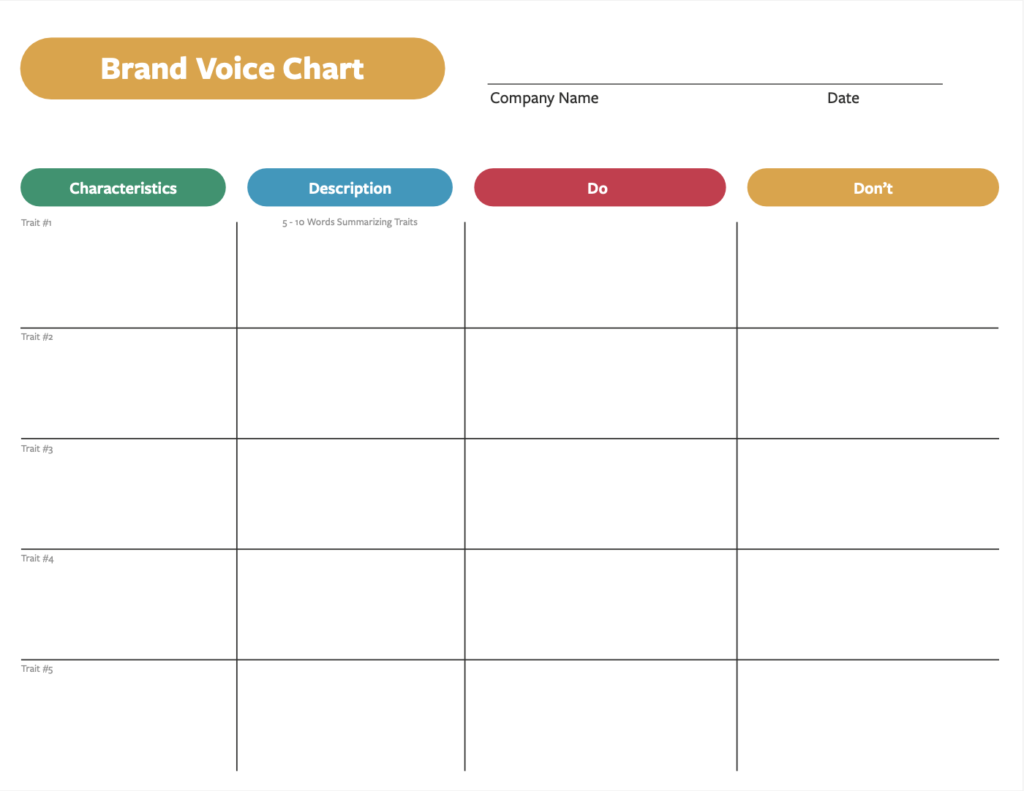 You'll list each adjective or trait and describe them using 5-10 words. Next, you'll describe how you do or don't want these traits to be portrayed. 
Answer these questions for each trait under "Do":
How do you want to talk about your brand with this trait? 
What do you want to convey? 
What kind of language do you want to use?
Then answer these questions under "Don't":
Who do you not want to be with this trait?
What do you want to avoid?   
What buzzwords or phrases commonly associated with this trait do you hate or want to avoid?
A brand chart will not only solidify your brand voice but also help you create some internal guidelines so your brand voice is consistent no matter who's creating your marketing materials. 
Viola! Creating your brand voice takes a lot of effort, but the reward is great when you're finished. You'll have a unique brand voice that piques the curiosity of prospects and is recognizable to returning customers. 
Schedule a call today if you're starting a new business and need to create your brand voice or you want to update the one you currently have. Our team has a lot of fun helping people like you find your voice and pursue your passion.